Over four years ago, I wrote a post entitled "It's 2017. Where do I go from here?", in which I attempted to chart a course for my horological pursuits over the coming year. There were three areas that I honed in on: i) 1940's / 1950's chronographs; ii) military issued watches; and iii) modern (haute horology) brands. Looking back on the post now, I can't tell if I was completely full of shit or if things just didn't break the way I thought they would. If you've been following along since then, you're already aware that I failed to tick any of those boxes, and four years later, have not owned any of the main three watches from that article (an early UG Tri-Compax, IWC Mark XI, and FP Journe Chronometre Bleu).
With a disjointed and tumultuous 2020 in the rearview mirror, I think it's time to revisit this intellectual exercise and see if I can get closer to the mark by the end of the year. While it's unlikely that I'd land more than 1-2 of these in 2021 due to pricing or scarcity (and in some cases, both), I think they are all worthy pursuits.
So without further ado, here are the five watches on my list for 2021! Fingers crossed that you'll see one of these surface in my feed this year:
1. Patek Philippe 5164R (Rose Gold Travel Time)
I can hear you guys already. "The first watch on the list is modern? And still in production? And retails for more than all but a few of your current watches? You feelin' okay, Baz?" Prior to pandemic-induced lockdowns, travel was a normal part of my life and I had become quite fond of selecting the perfect GMT for a cross-country jaunt, even if it was only a work-related day trip. While utterly stationary in 2020, however, I found that I was using my GMTs in the opposite manner – aligning the bezel with a timezone or city that I wanted to be in but couldn't visit. In a weird twist, the period that I've felt most connected to the GMT function has been while I've been anchored to my home city.
Just weeks before COVID pandemonium, I was in Miami to attend NAABS 2020 (you can see the photo report here) and noticed that Adam Golden of Menta Watches was rocking a steel 5164 the entire weekend. While I'd been attracted to the watch from afar prior to that trip, spending some time with Adam's example sold me on the eventuality of a 5164 ending up in my collection. The combination of the dressed down OEM rubber strap, practical travel time complication, and recognizable aesthetic make for a winner. Add in a rose gold case and you have a modern watch that you'll rarely, if ever, see on the wrists of other collectors at get-togethers…if those ever happen again.
Now the elephant in the room – the 5164R is hot. Scorching hot. When I first began looking at them roughly a year ago, they were plentiful in the low/mid-$50K range. Today? That second-hand price bracket has shifted north of $80K. If there's a kind soul reading this who has carte blanche at their local Patek boutique and would let me jump the line, let's make this dream a reality! Otherwise, it's hard to make the case for an $80K 5164R as a smart allocation of resources.
Picture c/o Hodinkee
2. A. Lange & Sohne Lange 1 "Darth" (101.035)
"Another modern watch? Seriously?" I know, I know. But hey, at least this one is no longer in production! I was lucky enough to borrow an early Lange 1 in yellow gold for an extended period in 2019, and while I enjoyed the unmistakable "Lange" aesthetic and top-tier finishing, it didn't call to me as a reference that I needed to own one day. Fast forward a few months to WIS cocktails with a friend of mine (@spin_transistor), who had just purchased a Lange 1 reference 101.035 (aka "The Darth"). Problem solved…or created.
The Darth photographs well but is far, far more dynamic in-person. The 38mm platinum case is perfectly balanced and the black dial (with matching black date wheel) has subtle contrast between the two subdials and the remaining negative space. It's rare for me to wear a watch and immediately dial it up to "I NEED THIS," but that's where the Darth currently sits. Oh, and I better move fast. Among the myriad configurations of Lange 1's, I believe the Darth is very well positioned to appreciate in value over the coming years. If this hasn't been added to my stable by the end of 2021, something went seriously wrong.
Photo c/o A Collected Man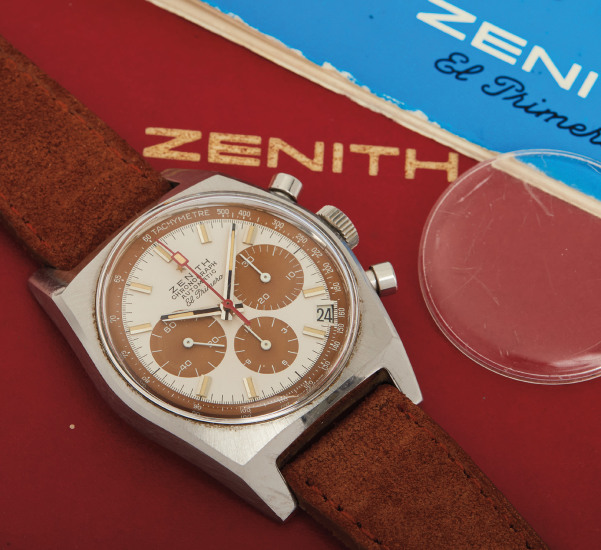 3. Zenith A384 (Tropical Dial)
This one hurts to add to the list. Unlike its big brother, the A386, the Zenith El Primero reference A384 has taken a more circuitous route to the mainstream. The case can appear overly blocky in pictures, and particularly in situations where the case has been over-polished, can morph into a "blob-like" appearance. Add in lume that is often degraded or dials that haven't faded uniformly and the results are…hit and miss. But all it took was an appearance on the Phillips stage for people to start noticing the reference.
To be more specific, Phillips offered a new old stock Zenith A384 in its Geneva 2019 sale and I'd hoped to be able to purchase the watch for the $20K range. That was sorely misplaced, as it ended up selling for $40K all-in. The next perfect example to surface was also at Phillips in their recent Racing Pulse sale. Not shockingly, it sold for $38K. While some people may point to this as a new market price, I think it the true market is lower and more nuanced. The two examples referenced above are likely the best two A384s on the planet and were amplified by the Phillips production machine. In a private sale, I would expect an "Excellent" condition tropical A384 to trade near the A386 (a median of ~$20K), and for the right example, that's a price I would happily pay.
Photo c/o Phillips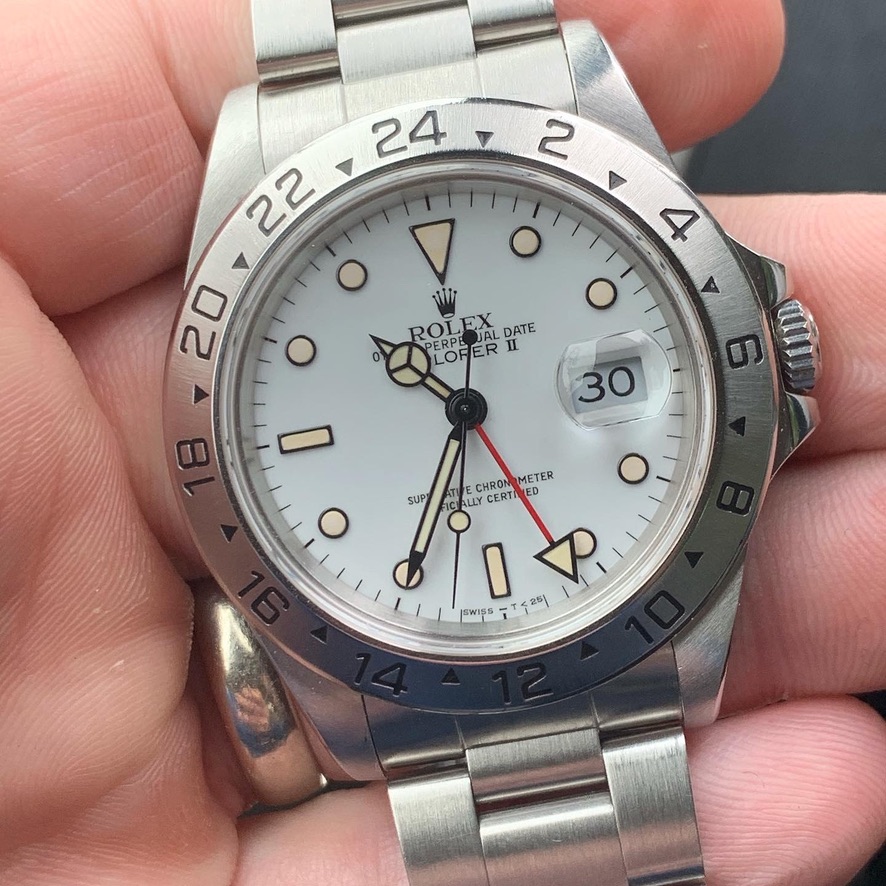 4. Rolex Explorer II Reference 16570 (Tritium Dial)
Prices for five-digit Rolex references (i.e. Submariners / GMTs / Explorers / Explorer IIs from the 1980's and 1990's) have been on an upswing in recent years, and in most cases, it's hard for me to buy into the hype…both literally and figuratively. Yes, they've been out of production for a while and the 40mm Oyster cases vary enough from current Rolex proportions to appeal to a more vintage-minded crowd. But with that said, they are ubiquitous, the majority do not show patina due to the transition away from tritium, and they are generally found in good condition, as this era marked the beginning of Rolex's ascendency to a status symbol, rather than a purpose-built tool watch.
With that negative preamble out of the way, however, there is one five-digit Rolex that I find very interesting: the Explorer II reference 16570 with tritium lume. Collectors and speculators have turned the prior reference 16550 ("cream dials") into $20K+ auction darlings, but to my eye, the starker white 16570 dials provide a better counterbalance to creamy tritium patina, and the prices remain more reasonable (~$9-10K for nice examples). Perhaps most importantly, it's very hard to find examples in condition such as the picture above. With any luck, I'm hopeful that you'll see one of these in my feed in short order.
Photo c/o RolexForums
5. Heuer Autavia Reference 2446 (Second Execution Dial)
The final watch on my list for 2021 is one that has been on my radar for at least five years now. The reference 2446 Autavia has been a fixture in Heuer-centric collections for years, as it has the most direct ties to the golden era of racing and is ~2mm larger than the Carreras. A few years ago, I owned a perfect "Jochen Rindt" Autavia, but ultimately opted to sell the watch because I preferred the more stripped down Carrera, both in size and design. Despite knowing that the Carrera is the best fit for my wrists, however, I can't shake the pure beauty of the second execution 2446.
The second execution is quite a rare bird. Sitting in between the "big subs" first executions and the more tightly designed "Rindt" Autavias, the second execution presents the throughline. The hands, still triangular in shape, point to an outer scale that features offset seconds graduations and minute hashes with small lume dots at the base of each hour. The bezel features a lumed triangle at 12 o'clock, a remnant of the first executions, but the chronograph subdials are smaller than prior versions and set the blueprint for the rest of the Autavia run. As a sum of its parts, I find the second executions to be the best of both worlds and also the best looking.
In contrast to the Zenith A384, prices for second execution 2446 Autavias have been largely stable over the past few years. The problem isn't trying to corral a hockey-stick pricing trend, but rather to find a watch in excellent condition that represents a best-in-class example for the reference. Eventually, things are bound to align – here's to hoping that alignment is arriving soon.
Photo c/o OnTheDash
___________________________________
So, what are your thoughts on my chances of landing one of these watches in 2021? What are the watches on your list for this year? Drop a comment below and please reach out directly if you are looking to sell any of the references above!