Readers of the tiny (microscopic) corner of the internet that my site occupies already know that Universal Geneve (or "UG") is one of my favorite brands to collect. Personally, I condense UG's long history into three distinct eras: the "Dress Era" (for collector purposes, this begins with the 1930s and carries into the 1950s), the "Sport Era" (the 1960s to 1970s), and the "Dark Era" (the 1980s to 1990s – we don't talk about this era). Collector interest is mostly limited to the 1940s through 1960s, when the brand introduced a number of models that went on to become staples of the vintage watch world. One such model, the Tri-Compax, is perhaps the most iconic of UG's offerings and remains highly sought after today.
Universal Geneve debuted the Tri-Compax at Baselworld in 1944 [Editor's Note: Pour one out for Baselworld] as a tribute to the brand's 50th anniversary. The watch was named for it's trio of complications (triple date, moonphase, and chronograph), and particularly in its earliest years of production, Universal Geneve experimented with a seemingly endless array of dial and case designs. For example, a quick Google search for 1940's Tri-Compaxes will yield examples with applied numerals and no numerals, lume and no lume, spider lugs and straight lugs. I could go on, but you understand my point. There's something for nearly everyone with early Tri-Compaxes, and despite the lack of accessible dogma for early Tri-Compaxes, there remains strong appetite amongst more tenured collectors. In fact, after reading about Ben Clymer's 1940's Tri-Compax in 2012, it became a reference that I was compelled to pursue. In the years since writing that post, I've realized that my preference lies firmly in the Sport Era, but there is an inherent romanticism to the early Tri-Compax that cannot be questioned.
The Tri-Compax received a decidedly modern upgrade in 1964 when Universal Geneve launched the reference 881101/01 and 881101/02. These new releases paired a more modern case design (supplied by Huguenin Frères) with panda and inverse panda color schemes that were reminiscent of other 1960's sports chronographs from Rolex and Heuer. Not only did this combination bring UG's lineup into direct competition with its sportier peers, but it also differentiated the company's offerings in the increasingly homogeneous world of sports chronographs. In 1968, Universal Geneve took the Tri-Compax a step further by introducing the reference 881101/03 and, a year later in 1969, the reference 881101/04. These variants would later be termed "exotic" dials by modern collectors.
At this juncture, it's worth mentioning that these two later Tri-Compaxes from the Sport Era are the rarest and most desirable to collectors today. The teal dial is the most seldom seen and typically fetches strong results in its limited appearances on the market. The slate dial, which is also exceptionally rare, featured an "exotic" minute track, akin to the colored outer scale on Paul Newman Daytonas, and is a fan favorite from 1960's Universal Geneve.
In addition to the collector community's stamp of approval, 1960's Tri-Compaxes boast an impressive celebrity supporter base. The panda-dialed reference 881101/01 has famously become known as the "Clapton Tri-Compax" after numerous photos surfaced showing the watch on Eric Clapton's wrist early in his career. Given Clapton's stature, both in the music and watch collecting worlds, the nickname has stuck for both the panda dialed version and inverse panda dial (the "Evil Clapton"). Though not publicly endorsed, there's another rock 'n roll Hall of Famer who owns the slate-dialed Tri-Compax: Geddy Lee of Rush. Needless to say, if the watch is good enough for two iconic musicians, it's good enough for any of us.
So how did this particular Tri-Compax enter my own collection? Yes, I suppose it's time we got to that part of the story.
Long before I considered myself a "collector" of vintage watches, I found a reference 881101/02 (or "Evil Clapton") Tri-Compax for sale and decided to pull the trigger. It would serve as my introduction not only to UG but also to the world of complicated watches, and I was able to take a number of lessons from my experience owning it. I learned quickly that I liked the Huguenin Frères cases and Gay Frères bracelets from this era. I also learned that a moonphase indicator exists to illustrate the moon's…well…phases, and as such, doesn't make a complete rotation every 24 hours (as I had expected when I bought it). But most importantly? I learned that I didn't really like the Tri-Compax dial all that much. Compared to its cousin, the Compax ("Nina Rindt" and "Evil Nina"), it seemed unbalanced by the larger fourth subdial and since I was too lazy to sync the triple date functionality to the correct day/date/month, the Tri-Compax's biggest attribute was rendered pointless in everyday life. Less than a year after buying the watch, I sold the Tri-Compax and never really looked back.
After selling my reference 881101/02 in 2015, I didn't think I would own another Tri-Compax. Occasionally a dealer or auction would feature a sharp example and I'd feel a prick of interest, but never to a degree that overrode the issues I found through prior ownership. As I periodically examined the slate dialed examples that were offered for sale, however, I started to take note of a couple things.
First and foremost, the watches were truly rare. In observing the market, it seemed that fresh-to-market examples surfaced publicly only a few times each year. The second epiphany took longer to develop, but is the most meaningful in terms of my interest in the watch: the more I studied the design language of the slate dial, I realized that it existed in it's own universe. This reference is the only Tri-Compax to feature i) a metallic finish on the dial, ii) contrasting chronograph subdials, and iii) a fourth subdial that blends seamlessly into the rest of the dial. The overall result is a design that is the most dynamic of the references, but also the most similar to other great "inverse panda" chronographs of its era.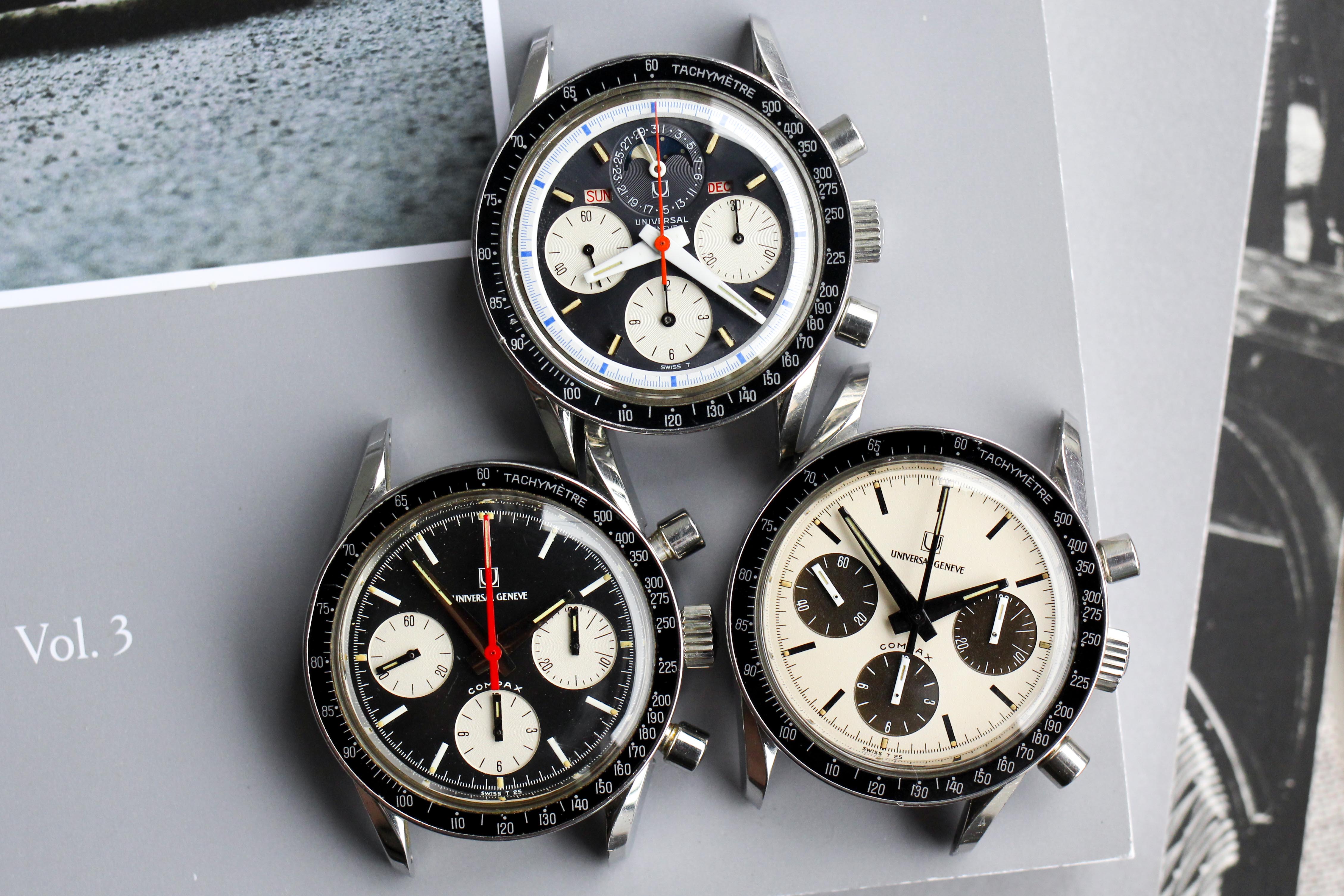 Despite my growing appreciation for the 881101/03, I have to confess that I wasn't actually seeking one out prior to my purchase of the example you see here. On a beautiful evening in September 2019, Chase Fancher (of Oak & Oscar) had arranged for Eric Wind to lecture on the current state of the vintage watch market. After delivering his lecture to a large crowd, a smaller group convened for dinner and drinks and the "show and tell" portion of the evening began. Though I was sitting on the opposite side of the table, my Spidey Sense began to tingle as Eric shifted his bag onto his lap and began to pull out a handful of interesting watches. I watched as Eric handed the exotic Tri-Compax to Chase, and with a total lack of restraint (from the other side of the table), coarsely demanded that he pass me the watch immediately. For all the pictures that I'd studied and design language that I'd digested, I had never actually held the slate dial Tri-Compax in my hand prior to that night, and if there's such a thing as love at first sight, this was it.
Later in the evening, I discussed the watch with Eric and learned that he had very recently purchased it from the original owner's family. The bracelet still had grime in between the links and under the clasp, and the bezel showed a fair amount of grime as well, but the dial and case were in excellent condition and the watch also retained it's original bracelet and end links. We parted ways that night and made plans to meet again the next day before he left town. Slate dial Tri-Compaxes are not cheap watches, but there are certain moments as a watch lover where you force yourself to follow instinct rather than logic, and this opportunity seemed to be the perfect watch coming to me at the perfect time. The following day, bundle of cash in tow, we met at Sable in River North and completed the hand-off.
Since taking ownership of the watch, I can confidently say that with the exception of my Patek Philippe 3940 (coincidentally, also acquired through Eric), no other watch elicits as much praise from friends and followers alike. The reference 881101/03 is a gem, both in pictures and in the metal, and I'm happy to have reversed course on my former dismissal of the Sports Era Tri-Compaxes.
The Nitty Gritty
As noted above, fresh-to-market examples of slate dial Tri-Compaxes are seldom seen and the watch is exceedingly rare. Richard Crosthwaite and Paul Gavin, authors of UG Ten, estimate that no more than 300 examples of the reference were produced, with less than 25 examples noted by the collector community as of the book's publishing in 2019. This compares to an accepted serial range of 2,000 examples for the 881101/01 and /02 (though Tri-Compaxes were produced in batches, so the actual figure was likely much lower than that). As with other Tri-Compaxes of this era, the Huguenin Frères case was nearly identical to the Valjoux 72-powered Compaxes, but included micro-adjusters to sync the triple date and moonphase and was slightly deeper to accommodate the Caliber 281 movement (a Martel-supplied movement that was used in prior generations of Tri-Compaxes as well).
This example remains in excellent condition, with the only notable flaws being small dents in the bezel and surface swirls on the case. Some of the pictures above show black scuffs on the bezel, but this is actually a layer of dirt that I was subsequently able to remove with a Q-Tip!